HTTP API Tester
It is a GUI interface that helps you to test the HTTP API actions provided by Ozeki SMS Gateway. You can basicly try the main functions of Ozeki SMS Gateway for example sending or receiving SMS messages, configuring users or drivers and several more actions. It is provided in the installer as an 'exe' file and as a source code as well.
Download free trial
A free trial of OZEKI SMS Gateway can be downloaded by clicking on the following link:
After downloading and installing it, find the default HTTP API Tester runnable file at:
C:\Program Files\Ozeki\Ozeki10\Client\HttpAPITester (Figure 1)
Please start 'HttpAPITester.exe'.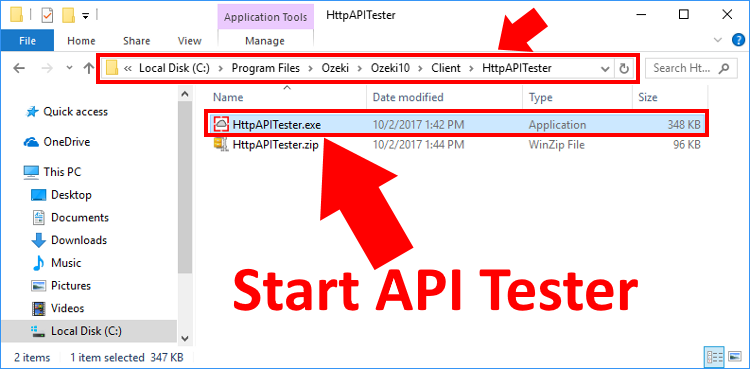 Figure 1
- Starting HTTP API Tester
Send your first SMS with the HTTP API
In the HTTP API Tester please provide the IP address, port number and login details for the SMS Gateway. The port number is 9501 for Ozeki NG SMS Gateway and 9505 for Ozeki 10's SMS Gateway. Finally please select the performable HTTP API action. In this example please select 'sendmessage', provide the HTTP request parameters and submit the request towards Ozeki SMS Gateway by clicking 'Submit'.
If you promptly provided the IP address and port number, you will receive a response from Ozeki SMS Gateway.